Fresh Alaskan Halibut
Wild Caught Halibut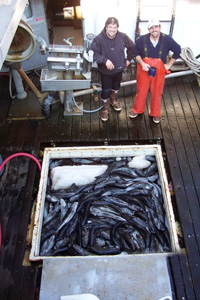 Captain Jack's Seafood Locker sells wild Alaskan halibut that has been harvested by fishermen who care about the quality of the seafood they deliver as much as we do. We work with only select vessels from the Seward halibut fishing fleet to provide the freshest most well-preserved Alaskan halibut, rockfish, and black cod (sablefish) to our customers. We inspect deliveries of fresh halibut, black cod, and white fish and purchase only the highest grade #1 fish. If they don't meet our standards they go on to another company who's standards are not as high.
Alaskan Halibut Fishermen
We work with vessels such as the F/V Chandalar, owned and operated by Capt. William Hankins. Captain William has been fishing these Alaskan waters for over 25 years and is known for delivering fish of the highest quality. Working with owner-operators such as Capt. William insures that our high standards are upheld with every halibut and
black cod
to come over the side.
The F/V Chandalar is a specialized long-line fishing vessel with sophisticated electronics that can pinpoint target species and productive fishing habitat in order to efficiently harvest while reducing the catch of unwanted fish. Automated rigging and baiting systems allow the crew of the Chandalar to maximize their catch in the shortest possible time. Shorter, more productive trips mean their fresh Alaskan halibut and sablefish is back to the dock many times within a day of being harvested, rather than lying in a fish-hold for a week or more on some vessels. After being caught wild halibut, black cod, and rockfish are immediately cleaned and iced to preserve their pristine quality.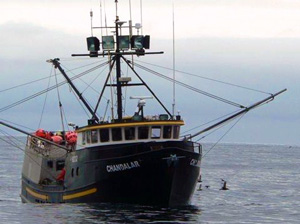 Our Fresh Halibut is #1
Premium-quality, sustainably-harvested fish and seafood is our business. So, whether you buy
halibut cheeks
online from Captain Jack's, or walk into our retail store in Seward to buy rockfish or black cod you can be sure you are receiving the finest fresh or frozen seafood Alaska has to offer.
Alaskan Halibut Info
---