Snow Crab Legs
Snow Crab Legs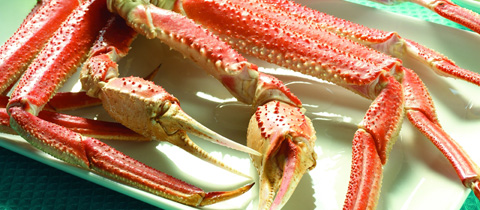 Our Alaskan snow crab legs and claws are amazingly sweet and flavorful. This wild Snow crab is so delicious you may even pass up the traditional warm butter! Captain Jack's wild snow crab are harvested and immediately frozen in clusters (3 legs - 1 claw). These huge crab clusters each weigh around 1/2 pound! Snow crab legs and claws are incredibly flavorful and represent an awesome value for wild Alaskan crab. Snow Crab Nutrition Info
Price $24.99/lb.
List Price: $29.99
You Save: $5.00 (17%)
Temporarily Sold Out.
AMAZING
"I was honestly incredibly impressed by the snow crab. I will be ordering again" - Christopher P.
HOY
"My wife absolutely loved the snow crab I ordered from Captain Jack's! I was trying to something nice for our 3rd wedding anniversary and thought a romantic dinner at home without the kids would be perfect. Captain Jacks made things easy with clean packaging and a user guide that included best ways to cook the crab and a few recipes to make it extra-fancy. The crab was fantastic, and my wife bestowed me with the 'Husband of the Year' title for making such a wonderful meal. I didn't tell her about the recipe card I used to make the crab (sorry, Jack, trying to keep my HOY status!), but we both agreed the crab legs were the best around. I would absolutely recommend Captain Jacks to anyone looking for great seafood at a great price!" - David K.
Fresh & Quick
"Ordering anything online can be a tricky. But I was impressed with the quality. Really it was about as fresh as I could find at Kroger." - Avery L.