Alaska Seafood Rewards!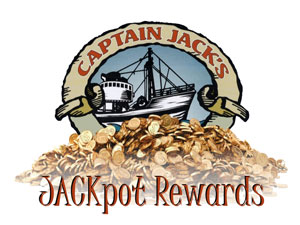 Introducing Captain Jack's Seafood Rewards Program - JACKpot Rewards!
As our way of saying thank you to our loyal customers we are offering a new first-of-its-kind Seafood Rewards Program. Its a great way to save on your favorite
Alaskan Seafood
. Created exclusively for our registered customers, each purchase will accrue JACKpot Points redeemable for discounts on future purchases.
* Automatic Rewards. Registered Captain Jack's customers will automatically begin accruing JACKpot Reward Points for purchases made in our online store. If you are not a registered customer sign up now to start earning points.
* Earn JACKpot Rewards for each purchase! Earn TWO points for every dollar of product purchased on our site! Each dollar spent is worth 2% on a future purchase. (Spend $500 – receive 1000 JACKpot Reward Points worth $10 off a future purchase).
* Submit Recipes, Earn Points!
Earn 500 JACKpot points for each original Alaskan seafood recipe you submit that is published on our site. Submit up to 4 recipes each month! All recipes are subject to review by our staff to determine suitability prior to publishing on our site. You must be a registered customer and login to submit recipes via our online
recipe submission
form...
* Refer a Friend, Receive Points! When you refer a friend to our site and they make a purchase on their first visit you'll receive points worth 15% of their order.
* Facebook and Email Offers. Watch our Facebook page and email offers for exclusive chances to earn extra JACKpot Reward Points.
* Check your JACKpot Reward Balance 
any time by logging in to
My Account
.
---