Gift Boxes - Non Perishable
Alaskan Smoked Salmon Package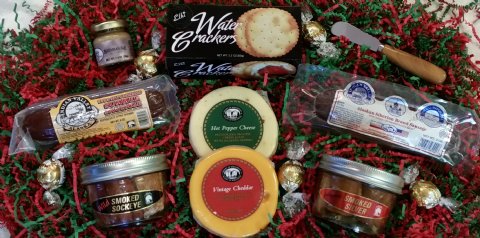 Captain Jack's shelf-stable gift packages are the perfect way to send a "taste of Alaska" to family and friends this Holiday Season!
Our most popular package includes:
2 different Alaskan made sausages,
1 (4 oz.) Smoked Sockeye Salmon Glass Jar,
1 (8 oz.) Smoked Silver Salmon can
1 (6 oz.) 1 Beer Stout mustard dipping sauce,
2 (4 oz.) Asst cheeses,
1 box of crackers,
a wooden handle spreader,
5 asst. chocolates.
Includes 2-Day Delivery!
Price $109.99
List Price: $139.99
You Save: $30.00 (21%)

Alaska Game Meat Package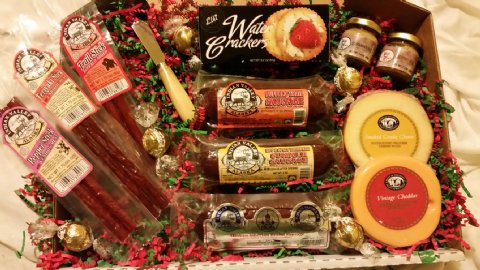 This is the perfect land lovers box. It's filled with all of our gourmet game meat favorites. This affordable box makes the perfect gift for housewarmings, Holiday parties, and other special occasions.
Package includes:
3 (9 oz.) Asst. Alaska Summer Sausages (Santa's gang not used in making this product),
2 (4 oz.)Asst. cheeses,
2 Asst. Beer mustard dipping sauces,
1 box Crackers,
3 Asst. Alaskan Game jerky sticks,
1 wooden handle spreader.

Includes 2-Day Delivery!

Price $84.99

List Price: $105.00

You Save: $20.01 (19%)
Alaska Seafood Gift Box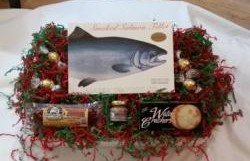 Everything you need to offer a fabulous appetizer spread at your Holiday party is here in one box. Put out a piece of Smoked Sockeye Salmon with crackers or a sausage plate with dipping sauce and watch your guest's faces light up. There is nothing better than adding a little "Alaska" to your get together.
Package Includes:
1 (4 oz.) Smoked Sockeye Salmon Fillet,
1 (9 oz.)Alaska made Summer Sausage,
1 Beer Stout mustard dipping sauce,
crackers.
Includes 2-Day Delivery!
Price $64.99
List Price: $84.99
You Save: $20.00 (24%)

Office Party
"I was looking for something better than the standard meat and cheese gift basket to send to my clients for the holidays. Finding good baskets is always difficult when you're trying to set your business apart from everyone else. We had tried various gift package companies with mixed results and never really felt happy with the product we received to deliver to our clients. That was before we found Captain Jack's gift boxes. These gift boxes were SO much better than the standard summer sausage, sharp cheddar, and water crackers. The Smoked Salmon Package is so popular in the office I have to hide them form the team on the floor when the holiday shipment arrives. If you want a gift box that is outside the box but familiar, Captain Jacks is the way to go!" - Tim F.
Gift Boxes For Every Occasion
"I ordered the gift box as more of a sampler than anything else. However, it ended up being used for a spur of the moment dinner party. I was impressed by the assortment of reindeer, smoked salmon, and cheeses. It all went over very well with my friends. If you ever find yourself needing a bit of a change up for your charcuterie plates." - Kurt J.