Sport Fish Processing
Captain Jack's Seward, Alaska Fish Processing: As fresh as the day you caught it!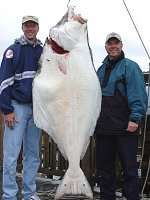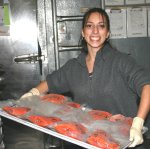 After a successful day on the water you will surely want to preserve your fresh Alaska halibut or salmon to savor throughout the year. Captain Jack's Seafood Locker provides the finest Alaska fish processing service and can take the hassle out of dealing with your catch. We will cut your fish into meal sized portions, vacuum package, blast-freeze, and box your catch for you to take home, allowing you to relive the memory of your Alaska fishing trip by simply opening your freezer door.
Captain Jack's Seafood Locker, located on the docks in Seward, is Alaska's premier full-service sport-fish processing plant. We are recommended by charter captains and sport fishermen throughout Alaska and the U.S. We offer the finest custom Alaska fish processing available for your fresh fish. We understand the value of your Alaska catch and Captain Jack's guarantees the fish you receive are the fish you caught. Our sophisticated customer tracking system follows your fish from initial weigh-in all the way to your freezer.
Prompt service insures that within hours of being caught your fish is cut, vacuum packaged, and blast-frozen to seal in the finest texture, flavor and pristine freshness. Captain Jack's Seward, Alaska fish processing plant uses only the finest industrial-grade vacuum packing equipment and state-of-the-art commercial blast freezers to process your fresh Alaska halibut and salmon. Our experienced and dedicated staff is the key to Captain Jack's reputation for delivering the highest quality Alaska fish processing service available.
Overnight delivery via UPS from our freezers to your front door ensures your fish arrives frozen and on the day you choose. Your fish is packed in seafood industry boxes which have been tested by delivery services for holding temperatures and approved for airline travel. Captain Jack's Alaska fish processing service also provides fish storage and can arrange for delivery of your frozen, boxed fish to the Anchorage Airport to meet departing flights.
Locally owned and operated, Captain Jack's Seafood Locker, was established 1997. We take great pride in caring for your fish and making sure your order is done right.