Alaskan King Crab Legs
Alaskan King Crab Legs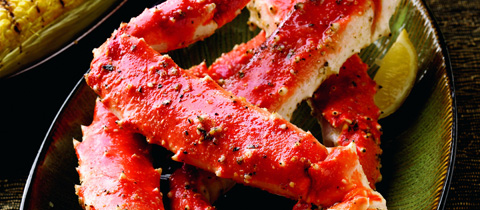 Limited supply ORDER NOW!!
The true "King" of Seafood, our Jumbo Red King Crab have thick, meaty legs and claws... These crab are celebrated for their gigantic legs which are filled with tender, luscious white meat. These legs are an impressive sight that you are guaranteed to love, perfect for a special occasion or a romantic dinner for two.
Each weigh approx. 2/3 to 1 pound! For the best price check out our Price $72.99/lb.

Super Jumbo Alaskan King Crab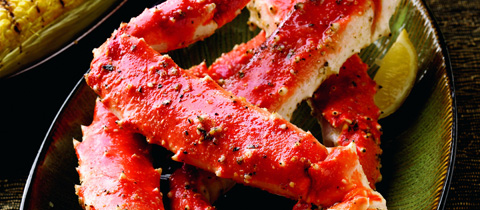 Super Colossal, Mega Gargantuan, Extra Enormous - or whatever you want to call them, these legs are as big as they come. Hand selected by us from less than 1% of the total crab catch to ensure that you have the finest crab dining experience! When size matters, choose Captain Jack's Super Jumbo Red King Crab legs weigh at least 1 pound each!
Price $87.99/lb.

King Crab Claws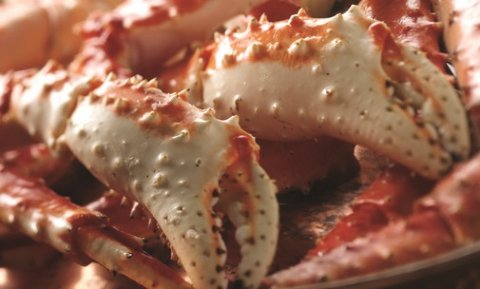 Red King Crab Claws are known for their firm consistency and sweet flavor. These King Crab Claws are 100% wild and filled with tender white meat that is known to be the sweetest part of the crab. They are a great option for an impressive party tray or a favorite king crab recipe.
Price $59.99/lb.

Red King Crab Pieces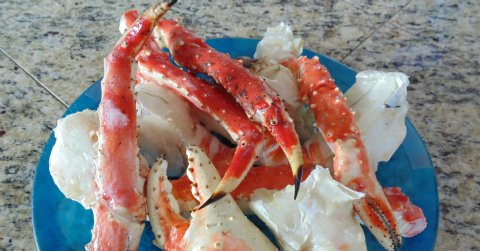 We receive a small amount of king crab that is broken in transit. Since we only ship full unbroken crab legs to our customers, what do we do with all the extra goodies? We package them up and pass the savings on to you, of course! Packed in 1 lb. portions, these smaller, easy to handle pieces are perfect for those delicious meals when you'll want to shell it anyway! Packages contain a mix of knuckle sections, and broken leg & claw pieces - all with delectable crab meat inside.
Price $49.99/lb.

King Crab Legs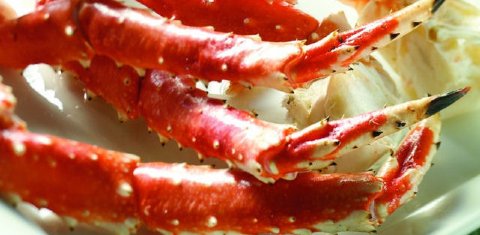 Buy Red King Crab at an amazing price when you order our 5 lb. king crab gift box. These wild Bristol Bay Red King Crab legs & claws are filled with sweet, tender white crab meat. You'll be amazed by the quality and savor every bite of this gourmet seafood delicacy. These legs & claws weigh approx. 1/2 to 2/3 lb. each!
Price $319.95

Alaskan King Crab Legs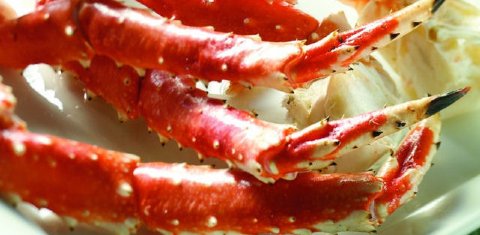 These beautiful King Crab Legs & Claws weigh in around 1/2 - 2/3 pound each! Our tasty crab is sustainably harvested by local fishermen here in Alaska. Alaskan Red King Crab is the perfect choice for a dinner party or a romantic night in! Enjoy the finest crab legs for sale in Alaska!
Price $63.99/lb.

Top Quality Seafood at Amazing Prices!
"If you're looking for fresh, quality seafood, Captain Jack's is where it's at! I ordered their king crab legs and they arrived way before expected! My family is from Boston and even they said it was the best seafood they've ever had. I highly recommend!!!!" - Sabrina S.
Definitely Ordering More
"The king crab legs were absolutely fabulous! So fresh, so flavorful, so amazing! Canít wait to try the rest of the menu!" - Daniel W.
Something Worth Checking Out
"I'm not one for ordering food online, however my Brother-in-law is, and recently he ordered the Jumbo Alaskan Red King Crab Legs for a dinner party. I ate (more) than my fill and did not regret it. I've got to say I was impressed and will be ordering for myself." - Scott B.