Wild Alaskan Seafood
King Crab Legs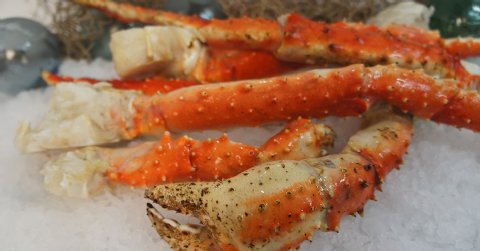 Jumbo Alaskan Red King Crab Legs - 5 lb. Crab Pack - with FedEx Delivery!
Buy Jumbo Red King Crab at an amazing price when you order our 5 lb. king crab gift box. These wild Bristol Bay Red King Crab legs & claws are filled with sweet, tender white meat. You'll be amazed by the quality and savor every bite of this seafood delicacy. All of our crab is genuine Alaska USA harvest. These JUMBO legs are the same as our King Crab for sale by the pound and weigh approx 2/3 to 1 pound each! FedEx Priority shipping included. Additional delivery charges for Hawaii locations.
Price $269.99
List Price: $299.99
You Save: $30.00 (10%)

Halibut Fillets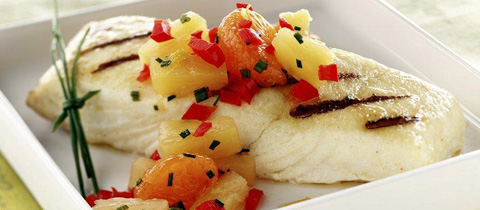 Wild Alaskan Halibut - 10 lb. Highliner Halibut Pack - FREE FedEx Shipping!
The term "highliner" is reserved for only the most successful fishermen. This highliner's package features 10 lbs. of our succulent Gulf of Alaska Halibut fillets - packaged, boxed, and shipped directly from our freezers to your front door. We sell the tastiest Alaskan halibut fillets, carefully cut from ideally sized halibut to ensure pristine texture, moisture content, and flavor. You'll join the highliner elite when you fill your freezer with our 10 lb. Alaska Halibut Pack. FedEx Priority delivery included. Additional delivery charges for Hawaii locations. Alaskan Halibut Nutrition Info.
Price $299.99
List Price: $325.00
You Save: $25.01 (8%)


Alaskan Seafood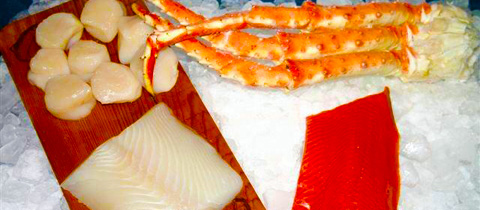 Alaskan Seafood Feast - 2 lbs. Alaskan Red KiUIKeyInputRightArrowng Crab, 1.25 lb. Scallops, 1 lb. Halibut, 1 lb. Sockeye Salmon - FedEx Delivery Included!
This is the ultimate Alaskan seafood lover's feast! We've packed all of the most popular Alaskan seafood favorites in one box - 1.25 lbs. of tender Alaskan Sea Scallops, 1 lb. of snow-white Halibut fillets, 1 lb. of rich Sockeye Salmon fillets, and 2 lbs. of Alaskan Red King Crab legs & claws... Make an impression on your friends and family (or treat yourself) with this wonderful Alaskan seafood feast. FedEx Priority Delivery included.
Price $239.99
List Price: $269.99
You Save: $30.00 (11%)