Wild Alaskan Seafood
Alaskan King Crab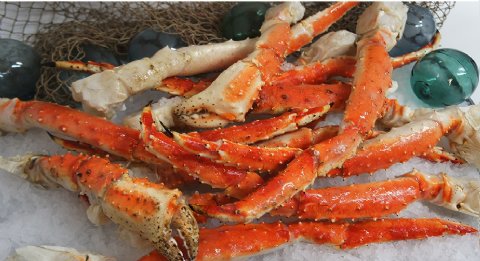 JUMBO Alaskan Red King Crab Legs - 10 lb. Crab Feast - Free FedEx Delivery!
Just off the boat from Bristol Bay! This unique Alaskan delicacy is sure to be a hit over the Holidays! Captain Jack's Seafood Locker selects the highest quality USA harvested crab and delivers it right to your door!
We grade each leg for size and quality insuring that you will savor every last bite. Don't be confused by other stores with Russian crab for sale. Our Bristol Bay Red King Crab are celebrated for their gigantic legs and claws filled with tender, luscious white meat. These JUMBO size legs & claws weigh approx. 2/3 up to 1 pound each! FedEx Priority shipping included. Additional fees apply for delivery to Hawaii locations.
Price $469.99
List Price: $675.99
You Save: $206.00 (30%)


Alaskan Seafood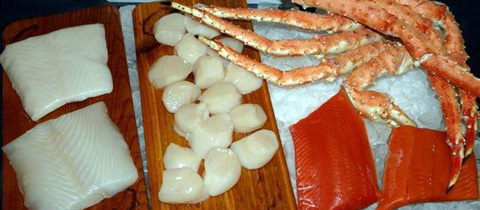 XL Alaska Seafood Feast - 4 lbs. Red King Crab, 2.5 lbs. Scallops, 2 lbs. Halibut, 2 lbs. Sockeye Salmon - FedEx Delivery Included!
This is the ultimate seafood lover's feast - SUPERSIZED! We've packed healthy portions of our most succulent favorites in one package - 2.5 lbs. of tender Alaskan Sea Scallops, 2 lbs. of snow-white Halibut fillets, 2 lbs. of rich Sockeye Salmon fillets, and 4 lbs. of Red King Crab legs & claws... Make an impression on your friends and family (or treat yourself) with this wonderful Alaska sized feast.
FedEx Priority shipping included. Additional fees for Hawaii locations.
Price $350.00
List Price: $549.99
You Save: $199.99 (36%)


Halibut Fillets & Halibut Cheeks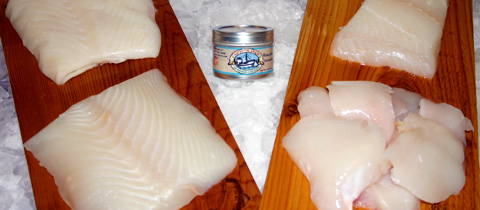 Longline Harvest - 4 lbs. Halibut Fillet, 1 lb. Halibut Cheeks w/Signature Spice - FedEx Shipping Included!
Buy Halibut straight from Alaska with this Halibut lover's package, complete with all the fresh Alaskan fish you need to make a tasty white-fish feast. Sautee, blacken, or bake the succulent Halibut cheeks to make wonderful hors-devours. The wild Halibut fillets are perfect for the grill, oven, or fryer. Package includes: 4 lbs. of Alaskan Halibut fillets, 1 lb. of Halibut Cheeks, and one Captain Jack's signature spice.
FedEx delivery included. Additional delivery charges for Hawaii locations.
Price $189.99
List Price: $249.99
You Save: $60.00 (24%)