Smoked Salmon
Smoked Salmon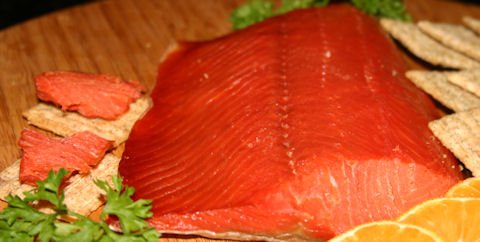 By popular demand, we have taken 3 lbs. of our best selling gourmet Alaskan Smoked Salmon and put it together into a package with Priority Shipping included! Additional fees apply for Hawaii delivery locations.
Price $149.99

Alaskan Smoked Salmon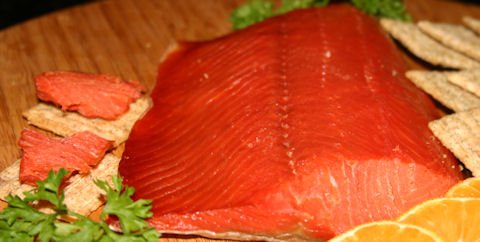 Captain Jack's Alder Smoked Sockeye Salmon has a sweet smokey flavor that is terrific by itself, mixed with cream cheese to make a dip or spread, or used to add bold flavor to salads and pastas. Our Alaskan smoked salmon is made with the highest quality ingredients. This begins with chrome-bright wild sockeye; the salmon known for producing the most rich, flavorful smoked fish. Captain Jack's hot smoking process fully cooks the fillet making it ready to eat! These fillets are then vacuum sealed and blast frozen to preserve their rich flavor. Packaged for sale in approx. 1/3 lb. portions. Orders over 7lbs will receive a flat $35.00 shipping rate! Additional fee for Hawaii locations.
Price $26.99/lb.

Smoked Salmon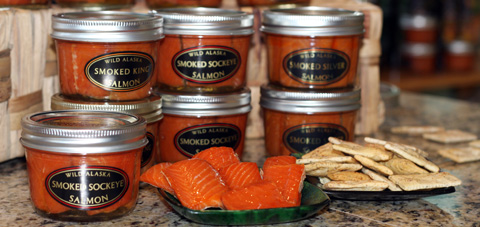 Captain Jack's has searched the state for the finest canned smoked salmon and we believe we've found it! Canned in beautiful glass jars, this canned smoked salmon has a hearty flavor. Available in Smoked Sockeye or Silver Salmon, this canned smoked salmon is perfect for dips, spreads, or on a party tray. Or try it as part of one of our wonderful smoked salmon recipes. Savor the flavor of Alaska with this go-anywhere treat. Our wild smoked salmon jars are shelf-stable until opened.


Incredible Flavour
"I recieved the "Canned Smoked Salmon" as a gift from my employer. I was hesitant to try it at first, but when I did I was incredibly impressed by how flavourful it was." - Casey D.
Referred By A Friend
"At a recent holiday party a co-worker referred me to Captain Jack's for a smoked salmon roll recipe. I bounced around the site a-bit & ended up ordering some of the jarred salmon. It is definitely worth having a taste or two." - Alex H.
Premium quality wild Alaskan smoked sockeye salmon packaged in a beautiful glass jar. Net Wt. 6.5oz.
Price $25.00

Yum!
"amazing smoked salmon! great snack/ full meal and holiday gift option." - Jessie M.
Highly Recommended
"Captain Jack's smoked salmon was well cooked and greatly prepared. Top quality and a great taste! Highly recommend the product." - Nick V.
Worth It
"Great selection, Iím a huge fan of the Smoked Salmon (as Xmas gifts to friends/co-workers, & for myself... because Iím all about that Salmon life). As somebody whoís landlocked, I highly recommend Capt. Jackís to anybody thatís looking for Alaskan seafood." - Ronin B.