King Crab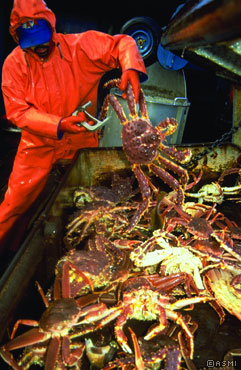 More than 40 known types of king crab roam the world's oceans but just three main species of Alaskan king crab are commercially harvested by king crab fishermen and available from seafood markets selling gourmet Alaskan seafood. They are Alaskan Red King Crab, Blue King Crab, and Brown "Golden" King Crab. The best known member of this tasty trio is the Alaskan red king crab.
Alaskan Red King Crab
The most sought after and highly regarded king crab from Alaska is the red king crab. Male red king crab have been known to grow up to a whopping 24 lbs. Alaskan red king crab legs are long, robust, and full of tender white meat that has long been renown by seafood lovers for its rich succulent flavor. After processing, Alaskan Red King Crab legs are bright to deep red in color with darker highlights around the spines and tips of each leg. Wild Alaskan red king crabs are sustainably harvested in the shallower waters around Bristol Bay, Norton Sound, and the Aleutian Islands. The catch of red king crab comprises approximately 75% of the annual Alaska king crab harvest. Buy king crab from Captain Jack's Alaskan Seafood Market.
Alaska Blue King Crab
Alaskan blue king crabs are adapted to life in colder, deeper water than their cousin red king crab. The population of Alaskan Blue King Crab supports only limited seasons which concentrate around St. Matthew and Pribilof Islands. Some markets in the U.S. sell blue king crab as "red king crab" but there are subtle differences between the two. Blue king crab legs are long but generally not quite as thick as true red king crab legs. Blue king crab legs can be slightly lighter with more dark highlights along the spines and around the tips. For their size, Blue King Crab tend to have a very large right claw "killer claw". The meat of the blue king crab is also very similar though possibly just slightly less flavorful than true Alaskan Red King Crab. Order Alaskan king crab legs from Captain Jack's Seafood Locker.
Alaskan Brown King Crab
Often referred to as Golden King Crab, the shell of Brown King Crab is "golden" orange in color. The spiny legs of the brown king crab are long and somewhat more slender than those of the red king crab and blue king crab. Golden King Crab is an economical option for consumers looking for gourmet Alaskan king crab. The mild-tasting meat of the Golden King Crab is pure white in the center with red highlights along the outside. Male golden king crabs are primarily harvested around the Aleutian Islands and average 4 - 7 lbs.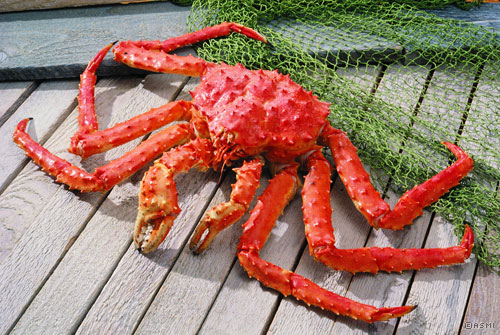 ---