Fish & Seafood Spices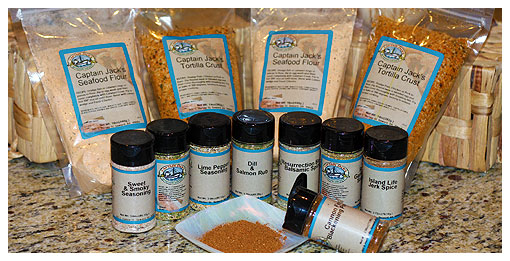 This is our most popular seafood seasoning! Without a doubt, this unique blend of crumbled tortilla chips, panko crumbs, and a zesty mix of seasonings has become our customer favorite for baking and frying almost any type of fish. This unique blend is so beloved in our home town local chefs use it to prepare fish in their seafood restaurants. Net weight 14 oz.
Price $8.99

Captain Jack's Seafood Flour is a flavorful substitute for regular flour and is seasoned to enhance the taste of any fish or seafood. With a special blend of seafood seasonings this flour is perfect for pan frying. Net weight 16 oz.
Price $8.99

A must for any garlic lover; this unique seasoning has a hearty garlic taste, combined with black pepper, salt, and spices, even a hint of brown sugar. Roasted Garlic Pepper Seasoning is one of our most versatile spices. Net weight 2.88 oz.
Price $7.00

It's a Best Seller for a reason. This AMAZING magic in a bottle will surely spice up whatever dish it's added to; from seafood and steaks to fries and vegetables it's a hit. Made with dehydrated balsamic vinegar. Net weight 3.04 oz.
Price $7.00

Our little twist on a common seasoning (lemon pepper) will make you say "Wow!" and leave you with the great flavors from south of the boarder. Net weight 3.04 oz.
Price $7.00