Fish & Seafood Spices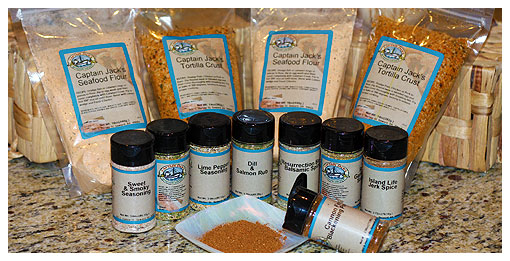 Captain Jack's Seafood Flour is a flavorful substitute for regular flour and is seasoned to enhance the taste of any fish or seafood. With a special blend of seafood seasonings this flour is perfect for pan frying. Net weight 16 oz.
Price $8.99

A must for any garlic lover; this unique seasoning has a hearty garlic taste, combined with black pepper, salt, and spices, even a hint of brown sugar. Roasted Garlic Pepper Seasoning is one of our most versatile spices. Net weight 2.88 oz.
Price $7.00

It's a Best Seller for a reason. This AMAZING magic in a bottle will surely spice up whatever dish it's added to; from seafood and steaks to fries and vegetables it's a hit. Made with dehydrated balsamic vinegar. Net weight 3.04 oz.
Price $7.00