Alaskan King Crab Fishing
Wild King Crab are harvested in giant pots made of steel and mesh that are dropped to the ocean floor. In Alaska, king crab seasons normally open in the fall and run through the early winter months, usually between October and January. The harvest of king crab in Alaska is sustainably managed to preserve wild king crab stocks. You may have even seen the Discovery TV show Deadliest Catch which depicts the harvest of the highly-prized king crab, often in foul weather, by maverick crews in search of a huge payday. After harvesting, Alaskan king crab are kept live in huge tanks onboard the vessels then delivered to the processor. Fresh king crab are separated into clusters (half a crab without the body), cleaned, and boiled. Most are then brine or blast frozen. Later, king crab clusters are separated into individual legs and graded by size.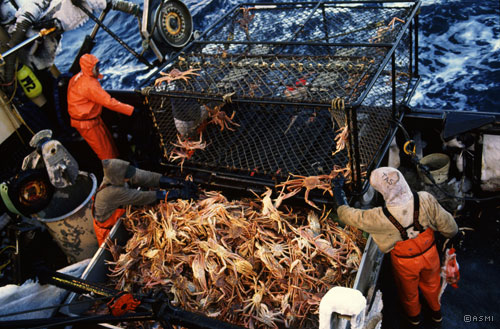 Alaskan King Crab Sizes
King crab legs are graded in sizes that indicate how many legs would comprise a unit of 10 pounds. Numbers such as 9/12 mean just that, 9 to 12 legs/claws per 10 pounds. You may also see a variety of terms used to describe the size of Alaskan King crab legs such as Large, Extra Large, Jumbo, Super Jumbo. Below is a list of standard king crab sizes and corresponding common terms used to describe these sizes. Though there is no industry standard for the size terms used by various companies selling Alaskan king crab, the legs are graded by the processors after they are frozen and sawed into individual legs. Usually the smaller "feeder" claw is not considered as part of this measurement but is included in the box in proportional numbers to the king crab legs and larger "killer" claws.
6/9 - Super-Jumbo, Super-Colossal
9/12 - Jumbo, Reserve, Gargantuan, Colossal
12/14 - Extra-Large
14/17 - Large
16/20 - Medium
20/24 - Small
24/+ - Extra-Small
The last two categories are usually reserved for Golden King Crab legs/claws as the legs of most legal sized red king crab generally comprise the larger size categories shown above.When you buy king crab legs online it is very important to consider leg size. Larger sized king crab are less common and thereby more expensive. Top of the line seafood markets will ship Alaskan King crab legs intact with very few broken pieces.
2021 King Crab Season Closure
In 2021 fisheries managers closed the season for Red King Crab and Golden King Crab in Bristol Bay and the Bering Sea because summer survey data showed a sharp decline in crab abundance. This closure follows multiple seasons where the Bristol Bay crab quota had been in decline, down from roughly 3.8 million pounds in 2019. News of the closure spiked prices to record highs for any remaining inventory of Alaskan king crab.
This closure is the first time the Alaskan crab fisheries have been shut down due to abundance declines since 1995. As difficult as a full closure of this fishery is for fishermen, processors, and consumers it highlights Alaska's dedication to managing sustainable fisheries at all cost, in comparison to Russian crab fisheries - where quota cheating is rampant and sustainable fisheries practices are rarely followed. In the past few years Chinese buyers have stepped in to purchase a substantial portion of the Russian harvest which brought the prices more in line for the competing harvests (Alaskan and Russian). This year however, many vendors in the US are completely sold out or have been forced to sell Russian Red King Crab as prices peak at levels never seen before.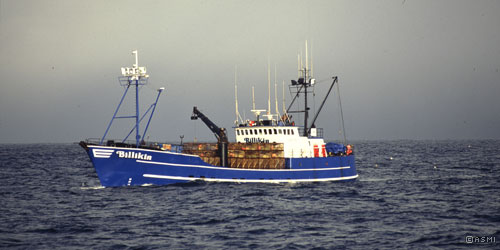 King Crab Resources:
---