Featured Products
Believe it or not there are almost three dozen different species of Rockfish in and around Alaskan waters. The Rockfish is recognized primarily for their brilliant colors, and are prized by many chefs for being outstanding table fare. Rockfish are notable for a unique, mild, white flesh that is slightly denser than either lingcod or halibut. They are also deliciously sweet and tender, which makes them ideal for a slew of recipes and cooking styles. These Wild Rockfish Fillets by Captain Jack's are skinless rockfish fillets that can be perfectly prepared on the grill, deep fried, blackened, or when used to prepare some delicious fish tacos! If you're planning a cozy night in with your loved one, don't overlook these fillets, and risk missing out on one of Alaska's most sought-after seafood options! Our Rockfish fillets are vacuum packaged and frozen in half pound to 1-pound portions to preserve the overall freshness.
Price $15.99/lb.
List Price: $19.99
You Save: $4.00 (20%)

Fisherman in Alaska know the Red King Crab is the most prized catch for those who brave the weather and water off the Alaskan coast. Don't be confused by others selling Russian harvested crab, Captain Jack's Alaskan Red King Crab Legs are true to their name. Like all of our seafood products, our Red King Crab are sustainably harvested by Alaskan fishermen. These beautiful legs & claws weigh in around 1/2 pound each; so support our local fishing fleet and enjoy the finest King Crab delivered right to your door! FEDEX Delivery included. Additional charge for delivery to Hawaii locations.
Price $399.99/lb.
List Price: $499.99
You Save: $100.00 (20%)

Captain Jack's Seafood Locker's Wild Alaskan Halibut Fillets & Fresh Halibut Cheeks Package is the perfect Alaskan Halibut pack for any seafood lover! This Halibut lover's package comes complete with all the fresh Alaskan fish you need to make a tasty Alaska sized feast. Package includes:
• 4 lbs. of Alaskan Halibut fillets
• 1 lb. of Halibut Cheeks
• 1 Captain Jack's signature spice
Sautee, blacken, or bake the succulent Halibut cheeks to make wonderful hors-devours. The wild Halibut fillets are perfect for the BBQ, oven, or deep fryer. FedEx delivery included. Additional delivery charges for Hawaii locations.
Price $189.99/lb.
List Price: $249.99
You Save: $60.00 (24%)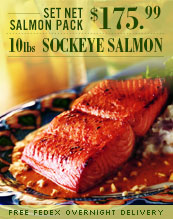 At Captain Jack's Seafood Market, we buy only fresh, chrome-bright Sockeye (Red) Salmon. We start by selecting the finest salmon right off the boat here in Seward, and then carefully hand-fillet these tasty fish, vacuum sealing and freezing them within hours of being caught. This yields some of the most well-preserved fresh salmon fillets on the planet!
Salmon is very high in Omega 3 fatty acids, which are great for reducing joint and blood vessel inflammation, reducing high blood pressure and more. In fact, Captain Jack's Wild Sockeye Salmon was chosen by Prevention Magazine as one of the worlds cleanest foods! So, load up your freezer with 10 lbs. of our healthy Sockeye Salmon fillets.
This package includes a combination of shoulder fillets (pin bone in) and tail fillet (boneless) portions.
FedEx Priority shipping included. Additional fees for Hawaii locations.
Price $199.99/lb.
List Price: $259.99
You Save: $60.00 (23%)