Featured Products
At Captain Jack's Seafood Locker, we select the finest, locally harvested wild salmon, which we then fillet, hand trim, brine, and hot smoke to absolute perfection. Our Smoked Salmon Fillets are then vacuum sealed and blast frozen in approx. 1/3 lb. portions to preserve their rich flavor. Our Alder Smoked Sockeye is the perfect tasty gift for just about anyone and makes an instant appetizer sensation at your next party (don't forget to check out our delicious smoked salmon recipes too!). Priority Shipping is included! Additional fees apply for Hawaii delivery locations.
Price $149.99/lb.

This special pack includes five pounds of flavorful Alaskan Dungeness Crab. This species provides a sweet flavor and texture that is unmatched anywhere in the world. Package contain clusters weighing between 1/3-1/2 pounds each - all with delectable crab meat inside. Price includes overnight Priority shipping! Additional charge for Hawaii shipments.
Price $239.99/lb.

Believe it or not there are almost three dozen different species of Rockfish in and around Alaskan waters. The Rockfish is recognized primarily for their brilliant colors, and are prized by many chefs for being outstanding table fare. Rockfish are notable for a unique, mild, white flesh that is slightly denser than either lingcod or halibut. They are also deliciously sweet and tender, which makes them ideal for a slew of recipes and cooking styles. These Wild Rockfish Fillets by Captain Jack's are skinless rockfish fillets that can be perfectly prepared on the grill, deep fried, blackened, or when used to prepare some delicious fish tacos! If you're planning a cozy night in with your loved one, don't overlook these fillets, and risk missing out on one of Alaska's most sought-after seafood options! Our Rockfish fillets are vacuum packaged and frozen in half pound to 1-pound portions to preserve the overall freshness.
Price $19.99/lb.

The Alaskan Snow Crab (also known as the Tanner Crab) is smaller than its cousin the King Crab – however, that doesn't make it any less of a delicious treat. This species is found in the icy deep of the North Pacific. In spite of what you might think, the Snow Crab actually gets its name from the pail-white color of its savory meat, and not from the conditions in which it lives.
The Snow crab is a classic Alaskan favorite. This wild snow crab is so delicious you may even pass up the traditional warm butter. These huge crab clusters each weigh around 1/2 pound! Snow crab legs and claws are incredibly flavorful and represent an awesome value for wild Alaskan crab. So don't miss out, order the real taste of Alaska today!
Price $36.95/lb.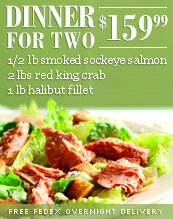 2 lbs. Alaskan Red King Crab. 1 lb. Halibut Fillet Portion. 1/2 lb. Smoked Sockeye Salmon. Priority Shipping Included!
Price $279.00/lb.

2 lbs. Red Sockeye Fillet Portion.
2 lbs. Halibut Fillet Portion.
1 Captain Jack's Signature Seafood Spice.
Priority Shipping Included. Additional fee for Hawaii delivery.
Price $199.99/lb.
List Price: $250.00
You Save: $50.01 (20%)

As tough as king crab looks on the outside, there is always a small amount of crab that is broken during processing. Since we only ship full unbroken crab legs to our customers in our packages and by the pound, what do we do with all the extra goodies? Well, after we eat some (of course) we package them up and pass the savings on to you! These Red King Crab Leg & Claw Pieces are packaged in 1 lb. portions, and include smaller, easy to handle pieces. Our packages contain an assortment of knuckle sections, and broken leg & claw pieces - all with savory crab meat inside, perfect for a variety of recipes. So don't miss out on this deal, order this true Alaskan classic seafood today!
Price $49.99/lb.

Red King Crab Claws are prized for good reason; they're sweet, succulent, and absolutely delightful! Captain Jack's King Crab Claws are 100% wild from the Bristol Bay. All our crab are the finest #1 grade to ensure that you get the Red King Crab Claws are filled with tender white meat that is known to be the sweetest part of the crab. They are a great option for an impressive party tray or a favorite king crab recipe.
Price $59.99/lb.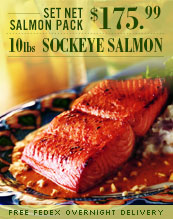 At Captain Jack's Seafood Market, we buy only fresh, chrome-bright Sockeye (Red) Salmon. We start by selecting the finest salmon right off the boat here in Seward, and then carefully hand-fillet these tasty fish, vacuum sealing and freezing them within hours of being caught. This yields some of the most well-preserved fresh salmon fillets on the planet!
Salmon is very high in Omega 3 fatty acids, which are great for reducing joint and blood vessel inflammation, reducing high blood pressure and more. In fact, Captain Jack's Wild Sockeye Salmon was chosen by Prevention Magazine as one of the worlds cleanest foods! So, load up your freezer with 10 lbs. of our healthy Sockeye Salmon fillets.
This package includes a combination of shoulder fillets (pin bone in) and tail fillet (boneless) portions.
Priority shipping included. Additional fees for Hawaii locations.
Price $229.99/lb.

4 lbs. Alaska Red King Crab. 2lbs. Sea Scallops, 2 lbs. Red Salmon Fillet Portions, 2 lbs. Halibut Fillet Portions.
Priority shipping included! Additional fees for Hawaii delivery locations.
Price $564.99/lb.