Wild Alaskan Seafood
Alaskan Seafood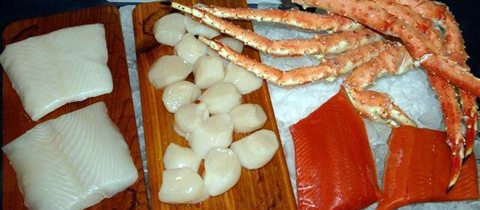 XL Alaska Seafood Feast - 4 lbs. Red King Crab, 2 lbs. Scallops, 2 lbs. Halibut, 2 lbs. Sockeye Salmon - FedEx Delivery Included!
This is the ultimate seafood lover's feast - SUPERSIZED! We've packed healthy portions of our most succulent favorites in one package - 2 lbs. of tender Alaskan Sea Scallops, 2 lbs. of snow-white Halibut fillets, 2 lbs. of rich Sockeye Salmon fillets, and 4 lbs. of Red King Crab legs & claws... Make an impression on your friends and family (or treat yourself) with this wonderful Alaska sized feast. FedEx Priority Overnight delivery included.
Price $329.99
List Price: $425.00
You Save: $95.01 (22%)


Alaskan King Crab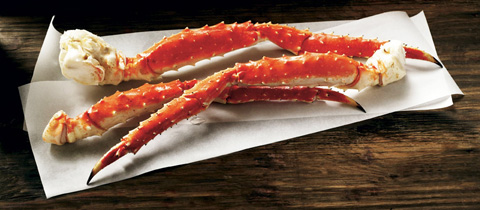 Alaskan Red King Crab Legs - 10 lb. JUMBO Crab Feast - Free FedEx Overnight Delivery!
Stock up on 10 lbs. of this unique Alaskan delicacy! When you order our JUMBO Feast you'll buy king crab at our very best price. Bristol Bay crab are celebrated for their gigantic legs and claws filled with tender, luscious white meat. Captain Jack's Seafood Locker sells only the highest quality crab, insuring that you will savor every last bite. These JUMBO king crab legs and claws are the same as our Red King Crab for sale by the pound and weigh approx. 2/3 to 1 pound each! FedEx Priority Overnight delivery included. Additional fees apply for Hawaii locations. King Crab Nutrition Info
Price $389.99
List Price: $499.99
You Save: $110.00 (22%)


Wild Alaskan Salmon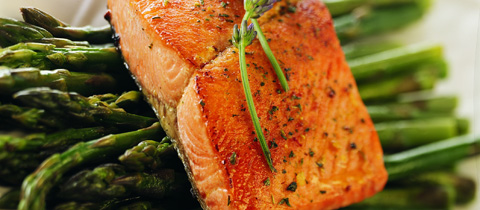 Alaskan King Salmon Fillets
Captain Jack's wild King Salmon boast a rich, tender flesh that is unrivaled by any farmed-raised king salmon. These Wild Alaska Salmon are called kings for a reason, as they can grow up to 100 pounds. King Salmon are harvested along with other species of salmon such as Sockeye and Coho. Our bright ocean-fresh King Salmon are sustainably harvested with the utmost care by local fishing families who pride themselves in providing the highest quality wild salmon available. Wild Alaskan Salmon are certified by the Marine Stewardship Council as a sustainable seafood product. King Salmon Nutritional Info.
Price $24.95/lb.
List Price: $29.99
You Save: $5.04 (17%)