Wild Alaskan Seafood
Alaskan Seafood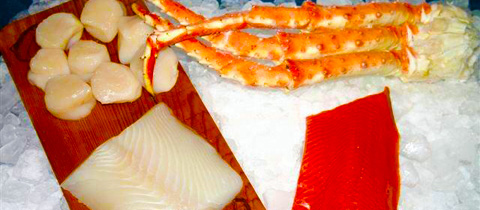 Alaskan Seafood Feast - 2 lbs. Alaskan Red King Crab, 1 lb. Scallops, 1 lb. Halibut, 1 lb. Sockeye Salmon - FedEx Delivery Included!
This is the ultimate Alaskan seafood lover's feast! We've packed all of the most popular Alaskan seafood favorites in one box - 1 lb. of tender Alaskan Sea Scallops, 1 lb. of snow-white Halibut fillets, 1 lb. of rich Sockeye Salmon fillets, and 2 lbs. of Alaskan Red King Crab legs & claws... Make an impression on your friends and family (or treat yourself) with this wonderful Alaskan seafood feast. FedEx Priority Delivery included.
Price $219.99
List Price: $245.99
You Save: $26.00 (11%)

Alaskan King Crab Legs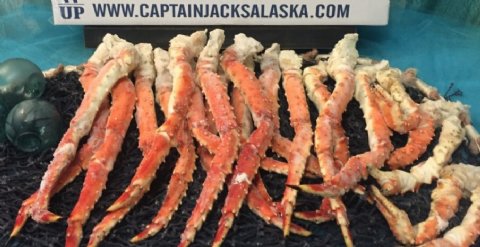 Alaskan Red King Crab Legs - 10 lb. Crab Feast - Free FedEx Delivery!
Fill your freezer with 10 lbs. of this tasty Alaskan treat. These beautiful legs & claws weigh in around 1/2 pound each. Like all of our seafood products our Red King Crab are sustainably harvested by Alaskan fishermen here in Alaska. Support local fishermen and enjoy the finest King Crab around!
Price $349.99
List Price: $429.99
You Save: $80.00 (19%)

Alaskan Smoked Salmon Sampler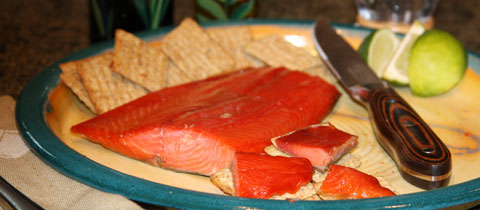 Smoked Salmon Sampler - 1 lb. Alder Smoked Salmon, 1 lb. Cajun Smoked Salmon, 1 lb. Black Pepper Smoked Salmon - with FedEx Delivery
We have taken a pound of each of our delicious smoked salmon flavors and put them together in one package that includes FedEx Delivery. You'll be the hit of the party when you show up with hors-devours made with Captain Jack's famous smoked salmon. (You can take the credit - we're ok with that..) Package includes 1 lb. Alder Smoked Sockeye Salmon, 1 lb. Cajun Smoked Sockeye, and 1 lb. Black Pepper Smoked Sockeye. Additional fee for Hawaii locations
Price $139.99
List Price: $159.99
You Save: $20.00 (13%)

Wild Halibut & Sockeye Salmon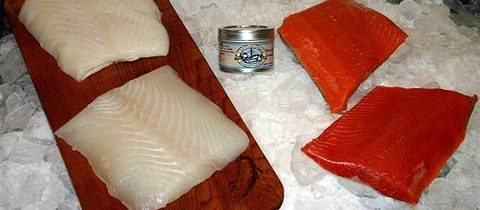 Red & White - 2 lbs. Halibut, 2 lbs. Sockeye Salmon, w/Signature Spice - FedEx Shipping Included!
Captain Jack's Red & White package is a great sampler of two Alaskan seafood favorites. This package is sure to be a hit with anyone who appreciates fresh Alaskan fish. Tender snow-white Halibut fillets and wild salmon from Alaska - there's no better way to savor the flavor of gourmet Alaska seafood! Package includes: 2 lbs. of Wild Sockeye Salmon fillets, 2 lbs. of Halibut fillets, and 1 Captain Jack's Signature Seafood Spice. FedEx Priority delivery included. Additional delivery charges for Hawaii locations.
Price $145.99
List Price: $159.99
You Save: $14.00 (9%)

More Featured Products >>