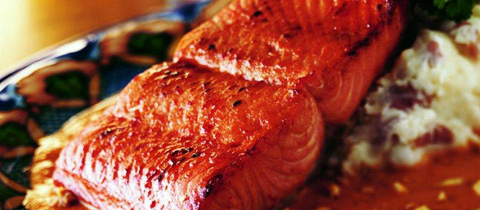 Wild Salmon - Alaskan Set-Net Salmon Pack - 10 lbs. Sockeye Salmon Fillets - FedEx Delivery!
Named for the set-net fishermen who carefully harvest these wild salmon from the icy Alaskan waters, this package is sure to delight. At Captain Jack's Alaska Seafood Market, we buy only fresh (#1), chrome-bright Sockeye (Red) Salmon. We carefully hand-fillet these tasty wild Alaska Salmon, vacuum sealing and freezing them within hours of being caught. This yields some of the most well-preserved fresh salmon fillets on the planet! Buy Salmon and fill your freezer with our 10 lb. Set Net Sockeye Salmon Pack - it will thank you. Your family will too... Wild Sockeye Salmon Nutrition Info
Price $175.99/lb.
List Price: $208.48
You Save: $32.49 (16%)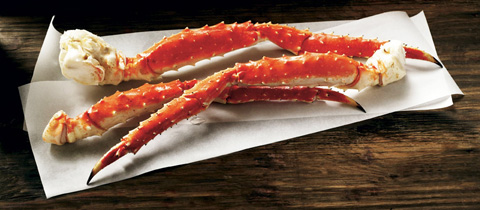 Alaskan King Crab - 10 lb. Jumbo Red King Crab Feast - Free FedEx Delivery!
Alaskan Red King Crab - Stock up on 10 lbs. of this unique Alaska seafood delicacy! When you order our JUMBO King Crab Feast you'll buy king crab online at our very best price. Bristol Bay Red King Crab are celebrated for their gigantic legs and claws filled with tender, luscious white meat. Captain Jack's Seafood Locker sells only the highest quality Alaskan crab, insuring that you will savor every last bite. These GIANT legs and claws weigh approx 2/3 to 1 pound each! FedEx Overnight delivery included. King Crab Nutrition Info
Price $349.99/lb.
List Price: $486.56
You Save: $136.57 (28%)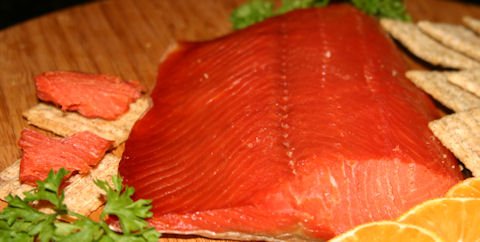 Smoked Salmon Special - 3 lbs. of Alder Smoked Sockeye Fillets, w/FedEx Delivery.
We've taken our most popular Alaska Smoked Salmon and put together a tantalizing 3 lb. special - including FedEx Overnight Shipping. Buy smoked salmon as a tasty gift or order it for yourself to become an instant appetizer sensation at your next party! We start with the finest (#1) wild Alaskan salmon fillets which are hand trimmed, brined, and hot smoked to perfection. Fillets are vacuum sealed and blast frozen in approx. 1/3 lb. portions to preserve their rich flavor. Try our delicious smoked salmon recipes.
Price $119.99/lb.
List Price: $133.99
You Save: $14.00 (10%)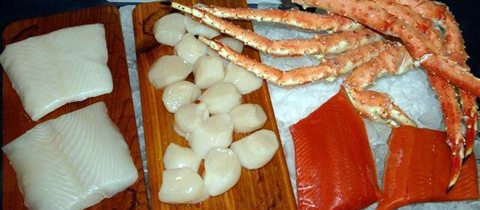 XL Alaska Seafood Feast - 4 lbs. Jumbo Red King Crab, 2 lbs. Scallops, 2 lbs. Halibut, 2 lbs. Sockeye Salmon - Free FedEx Delivery!
This is the ultimate Alaska seafood lover's feast - SUPERSIZED! We've packed all of the most succulent Alaskan seafood favorites in one package - 2 lbs. of tender Alaskan Sea Scallops, 2 lbs. of snow-white Halibut fillets, 2 lbs. of rich Sockeye Salmon fillets, and 4 lbs. of JUMBO Alaskan Red King Crab legs & claws... Make an impression on your friends and family (or treat yourself) with this wonderful Alaska Seafood Feast. FedEx Overnight delivery included.
Price $329.99/lb.
List Price: $385.27
You Save: $55.28 (14%)


More Featured Products >>