Featured Products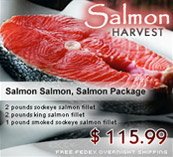 These moist, tender wild King Salmon fillets are high in Omega3's making them a heart-healthy meal, not to mention providing the richest flavor of any of Alaska's wild salmon. Our fresh Alaskan King Salmon fillets are certified by the Marine Stewardship Council as a sustainable seafood product.
Price $24.95/lb.
List Price: $29.99
You Save: $5.04 (17%)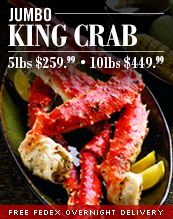 Price $399.99/lb.
List Price: $499.99
You Save: $100.00 (20%)

4 lbs. Alaska Red King Crab. 2 lbs. Sea Scallops, 2 lbs. Red Salmon Fillet Portions, 2 lbs. Halibut Fillet Portions. FedEx Standard Overnight Delivery Included. Additional charges for Fedex Priority locations.
Price $339.99/lb.
List Price: $499.99
You Save: $160.00 (32%)