Sockeye Salmon
Sockeye Salmon (Red Salmon)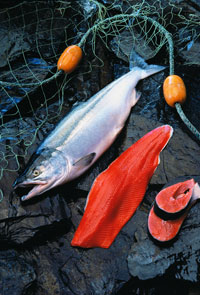 Sockeye Salmon (Oncorhynchus nerka), otherwise known as Red Salmon, are highly sought after by sport, subsistence, and commercial fishermen. Their bright red flesh makes excellent table fare. Sockeye are firm fleshed fish with slightly less oil content than king salmon. Wild Sockeye Salmon are harvested in the saltwater by commercial fishermen using nets (gill nets or seine nets) but sport fishermen usually only catch "reds" in fresh water rivers because they feed on very tiny organisms such as krill. This renders ineffective the common baits, spoons, and lures sportsmen typically use to catch other types of salmon in the saltwater around Alaska. On a per pound basis, sockeye salmon are the second most valuable wild salmon commercially harvested in Alaska - falling behind the King Salmon and ahead of the Coho, Pink, and Chum.
Sockeye Salmon Cycle of Life
Red salmon hatch from eggs deposited by mature females in the gravelly beds of fresh-water lakes or slow moving tributary streams. Female Sockeye spawn in 3 to 5 nests (or redds) over the course of a couple days. Fertilized eggs hatch about 2 months later and slowly develop into recognizable salmon fry. These wild salmon fry spend one to three years in fresh water before migrating down-stream and entering the ocean. Prior to entering the ocean sockeye smolt lose the dark vertical stripes (or parr marks) helpful in camouflaging the fry in fresh water. Their sides become bright silver with a white belly, and dark blue coloration along the top of the back. At the same time, Sockeye smolt undergo physiological changes which allow their gills to function in saltwater.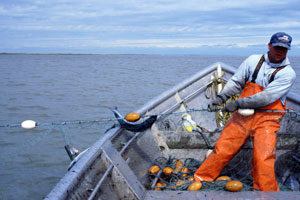 After spending about two years in the open ocean, mature red salmon re-enter the river connecting to the lake system from which they were hatched. Mature Sockeye average 6 to 8 pounds and are generally 4 years old, though some may be as old as 6. Upon entering fresh water their bodies turn bright red in color and their heads turn green. This distinctive coloration makes sockeye salmon easily identifiable by even novice fishermen. Due to the lack of salinity in the fresh water the salmon's cells absorb water and their body begins the slow decomposition process that will continue through spawning and bring about the end of their life.
Sustainability:
Sustainability of wild fish and seafood stocks is taken very seriously in Alaska. Salmon runs are monitored closely to allow sufficient escapement levels of spawning adults and to prevent over harvest. This close monitoring of individual river systems is vital to ensuring the viability of future salmon runs, year after year. Wild Salmon from Alaska have been certified as a sustainable seafood species by the Marine Stewardship Council. The Monterey Bay Aquarium's Seafood Watch also names all of Alaska's wild salmon species at the top of its list of sustainable options for salmon consumption. For more information about Alaska's salmon species please see Alaska Seafood Marketing Institute's Alaska Salmon Buyer's Guide.
---