Alaskan King Crab Fishing
Wild King Crab are harvested in giant pots made of steel and mesh that are dropped to the ocean floor. In Alaska, king crab seasons normally open in the fall and run through the early winter months, usually between October and January. The harvest of king crab in Alaska is sustainably managed to preserve wild king crab stocks. You may have even seen the Discovery TV show Deadliest Catch which depicts the harvest of the highly-prized king crab, often in foul weather, by maverick crews in search of a huge payday. After harvesting, Alaskan king crab are kept live in huge tanks onboard the vessels then delivered to the processor. Fresh king crab are separated into clusters (half a crab without the body), cleaned, and boiled. Most are then brine or blast frozen. Later, king crab clusters are separated into individual legs and graded by size.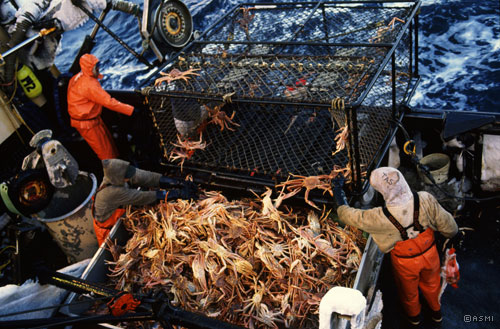 Alaskan King Crab Sizes
King crab legs are graded in sizes that indicate how many legs would comprise a unit of 10 pounds. Numbers such as 9/12 mean just that, 9 to 12 legs/claws per 10 pounds. You may also see a variety of terms used to describe the size of Alaskan King crab legs such as Large, Extra Large, Jumbo, Super Jumbo. Below is a list of standard king crab sizes and corresponding common terms used to describe these sizes. Though there is no industry standard for the size terms used by various companies selling Alaskan king crab, the legs are graded by the processors after they are frozen and sawed into individual legs. Usually the smaller "feeder" claw is not considered as part of this measurement but is included in the box in proportional numbers to the king crab legs and larger "killer" claws.
6/9 - Super Jumbo, Reserve, Gargantuan, Colossal
9/12 - Jumbo, Extra Large, Reserve
12/14 - Large
14/17 - Medium
16/20 - Small/Medium
20/24 - Small
24/+
The last two categories are usually reserved for Golden King Crab legs/claws as the legs of most legal sized red king crab generally comprise the larger size categories shown above.When you
buy king crab legs
 online it is very important to consider leg size. Larger sized king crab are less common and thereby more expensive. Top of the line seafood markets will ship Alaskan King crab legs intact with very few broken pieces.
2014 King Crab Prices
The price of Alaskan king crab is dictated by factors such as demand from foreign buyers (mainly Japan), the size of the harvest, and to a lesser degree the health of the U.S. economy and domestic demand. After the current crab season concludes in late 2014 the price of Alaskan king crab is expected to fall somewhat from 2013. This is due to increased quotas from previous years when prices were on the rise and hit record highs in 2011 with substantial quota reductions. Japanese buyers purchase the bulk of the Alaskan king crab harvest each year leaving just a small amount of Alaskan-caught crab available for sale in domestic markets. This year the strong US Dollar has served to slightly temper the demand from these foreign markets and fisheries managers in 2014 increased quotas from 2013 as crab stock assessments showed increasing biomass of mature crabs. These factors should help to moderate wholesale king crab prices in 2014 and early 2015.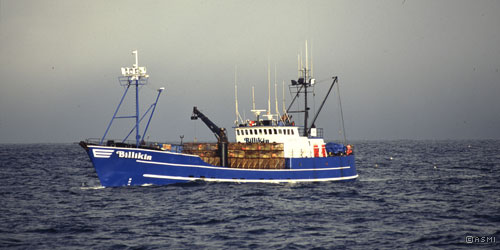 King Crab Resources:
King Crab Lifecycle
---