Alaskan King Crab Legs
Alaskan King Crab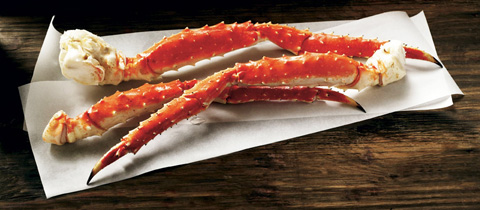 Black Friday/Cyber Monday Jumbo Crab Sale. Buy Now - Sale price good thru Monday Nov. 30th! Reg. $369.99
Alaskan Red King Crab - Stock up on 10 lbs. of this unique Alaska seafood delicacy! When you order our JUMBO King Crab Feast you'll buy king crab legs at our very best price. Bristol Bay Red King Crab are celebrated for their gigantic legs and claws filled with tender, luscious white meat. Captain Jack's Seafood Locker sells only the highest quality Alaskan crab, insuring that you will savor every last bite. These JUMBO king crab legs and claws are the same as our Red King Crab for sale by the pound and weigh approx 2/3 to 1 pound each! FedEx Priority Overnight delivery included. Additional fees apply for Hawaii locations. King Crab Nutrition Info
Price $319.99
List Price: $499.99
You Save: $180.00 (36%)

King Crab Legs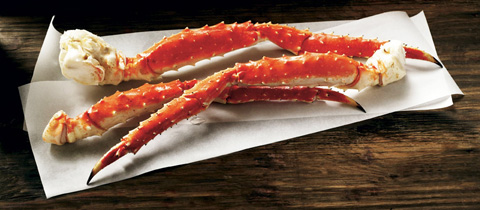 Black Friday/Cyber Monday Jumbo Crab Sale. Buy Now - Sale price good thru Monday Nov. 30th! Reg. $229.99
Buy Jumbo Red King Crab online at an amazing price when you order our 5 lb. king crab gift box. These wild Bristol Bay Red King Crab legs & claws are filled with sweet, tender white meat. You'll be amazed by the quality and savor every bite of this Alaska seafood delicacy. These JUMBO king crab legs are the same as our Alaskan King Crab legs for sale by the pound and weigh approx 2/3 to 1 pound each! FedEx Priority Overnight delivery included.
Price $209.99
List Price: $299.99
You Save: $90.00 (30%)

Alaskan King Crab Legs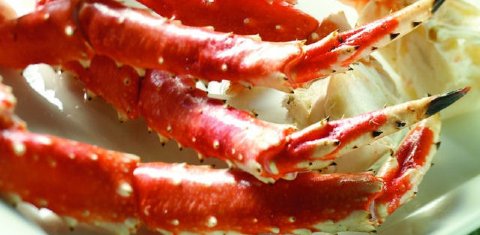 LEGS AND CLAWS WEIGHING 1/2 POUND! Fill your freezer with 10 lbs. of this tasty Alaskan treat. These beautiful Alaskan King Crab legs and claws weigh in at around 1/2 pound each. Like all of our seafood products our Red King Crab are sustainably harvested by Alaskan fishermen here in Alaska. Support local fishermen and enjoy the finest Alaskan King Crab around!
Price $299.00
List Price: $399.00
You Save: $100.00 (25%)

Alaskan King Crab Legs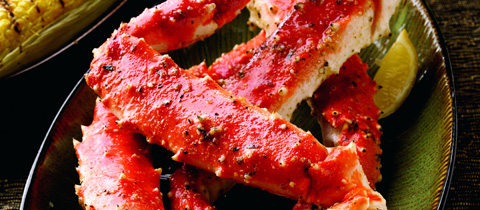 The true "King" of Alaska Seafood, our Jumbo Red King Crab have thick, meaty legs and claws... In Alaska, these crab are celebrated for their gigantic legs which are filled with tender, luscious white meat. After sampling this succulent treat you will know why, for years, Alaskan crab fishermen have risked their lives to bring home this delectable catch. Captain Jack's online seafood market sells only the highest quality king crab legs, insuring that you will savor every last bite of this unique Alaskan seafood delicacy. Jumbo red king crab legs & claws are an impressive sight, perfect for a special dinner occasion or a romantic dinner for two. These HUGE legs weigh approx. 2/3 to 1 pound each! For the best price check out our 5 lb. Jumbo Alaska King Crab Pack or our 10 lb. Jumbo Alaska King Crab Leg Feast
Price $38.99/lb.
List Price: $44.99
You Save: $6.00 (13%)

Super Jumbo Alaskan King Crab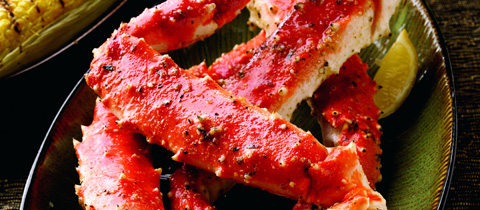 Super Colossal, Mega Gargantuan, Extra Enormous, or whatever you want to call them, these legs are as big as they come. Hand selected from less than 1% of the total catch, Captain Jack's Super Jumbo Red King Crab legs weigh at least 1 pound each!
Price $44.99/lb.

Red King Crab Pieces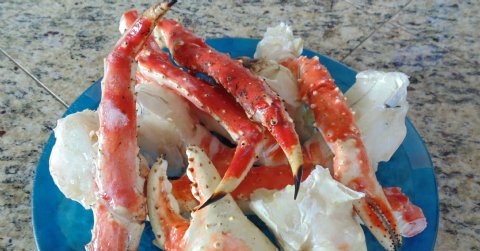 We receive a small amount of king crab that is broken in transit. Since we only ship full unbroken Alaskan King Crab Legs to our customers, what do we do with all the extra goodies? We package them up and pass the savings on to you, of course! Packed in 1 lb. portions, these smaller, easy to handle pieces are perfect for those delicious meals when you'll want to shell it anyway! Packages contain a mix of knuckles and broken king crab leg and claw pieces.
Price $25.99/lb.
List Price: $32.99
You Save: $7.00 (21%)